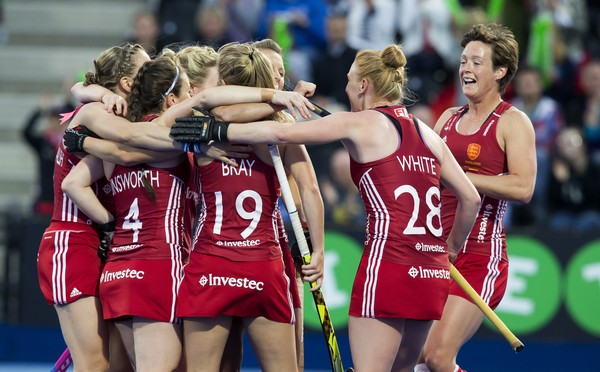 Owsley snatches late English semi-final winner
England – Spain 2-1 (1-0)
Lily Owsley's 52nd minute winner earned England a back-to-back Unibet EuroHockey Championships final berth as they won a physical battle over Spain 2-1.
It means they join the Netherlands in Sunday's decider for the medal hoping to go one better than two years ago in Boom.
While Owsley was named player of the match and took the plaudits for the winning goal, she was quick to pay tribute to the work done further back to set the base for the victory.
"Us forwards, we are happy to do the work for the team because our defenders are absolutely outstanding. They've saved us a lot tonight and were incredible. They get the ball to us and we sometimes get the glory and we are so proud of this team performance."
And the striker was delighted to avoid the tension of a shoot-out in the final four, a route England have regularly engaged in in recent times.
"To keep them out and not have to go to a shoot-out, it is the first semi-final in a while apart from the World League where we have done that. It's nice to win it that way."
Her side got off to a flyer with Alex Danson popping home her fourth goal of the tournament from a fourth minute penalty corner. She showed lightning reactions to volley to react when Kate Richardson-Walsh's powerful shot rebounded off Maria Ruiz's pads.
But while the momentum remained with the hosts, enjoying up to 70% possession, their momentum was stalled in the face of a tight-knit Spanish defence.
Lying in wait for loose moments, Berta Bonastre almost stole in for an equaliser when she robbed Richardson-Walsh on halfway. Her shot was tame, though, and Maddie Hinch comfortably guided it to safety.
It gave Spain some confidence for they were in inches from getting a touch to Lola Riera's menacing diagonal cross while Gloria Comerma had a corner strike smothered by Hinch to retain the half-time lead.
England once again had the impetus early in the second half with some big chances, the pick of them falling to Danson from Nicola White's baseline pull-back. But, after surviving a pair of green cards for rough tackles, Spain got back on terms in wondrous fashion.
Georgina Oliva took a quick free, danced to the left before unleashing a vicious, dipping reverse-stick shot through a thicket of players and beat Hinch.
Oliva later said her side will learn a lot from this performance but it was scant consolation after coming so close.
"It was a first semi-final in four years and the first under Adrian Lock. Maybe we were a bit nervous and we have to learn from it. We lost the first quarter and they are a really good team, especially physically. We had a few chances and scored one but we couldn't do anything more.
"I am proud of my team but we are sad we are not in the final. I hope England win the tournament because they are the hosts."
It came during a purple patch for Spain but the yellow card sustained by Carlota Petchame stalled this and England regrouped well. After Georgie Twigg drew the best from Ruiz, she duly picked out Lily Owsley amid a packed circle and the striker duly flipped over the line from close range for a 2-1 lead with eight minutes to go.
Spain reacted well, Bea Perez's surging run leading to the ball drifting just over the bar but it was their last major chance as England made it over the line.