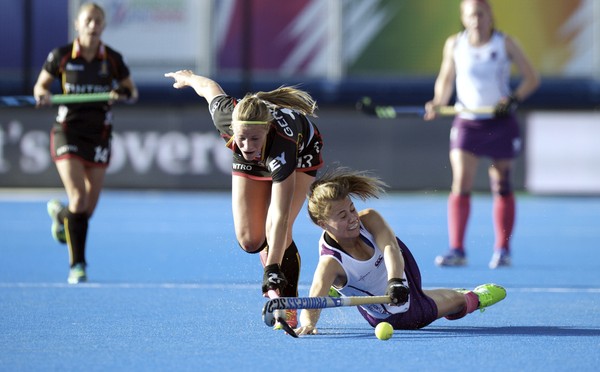 Versavel strike retains Belgian's top tier status
Belgium vs Scotland (1-0) (1-0)
Belgium women struck early to ensure they stayed in the top tier of European competition for 2017 with a 1-0 victory over Scotland. The victory left the Belgians with six points in pool C, meaning it was impossible for them to finish in the bottom two positions and thereby be relegated, writes Peter Rogers.
And Stefanie de Groof said that maintaining their place was "very important" in a difficult year for the Belgians.
"We haven't had a good year, we didn't qualify for Rio and this is finally something good so finally we can be happy about a result; it's a good feeling. I think its really important for our team that we did it in the first Pool C game."
Scotland are still in a strong position with three points but they will know they need something from their match with Poland on Sunday to be sure of their safety.
Pascal Kina's women dominated the game, having 10 shots on target to Scotland's two. Only some high class goalkeeping from Amy Gibson ensured that the margin of victory was only one. As it was, Versavel's first minute strike was to remain the decisive goal.
Having both brought three points into pool C with them from the first round of matches, the teams came into the match knowing that a win would see them safely remain in European international hockey's top tier.
Belgium broke the deadlock inside the first minute with Versavel (1') present at the far post to poke home an intricate penalty corner routine, her second goal of the tournament.
Belgium maintained the attacking pressure in the first quarter, breaking into the Scottish circle six times in the first 15 minutes.
As the quarter came to its conclusion a rare Scottish attack, orchestrated by a driving run from Nikki Lloyd, earned the team in white a penalty corner. Despite miscuing her drag flick, Emily Maguire still managed to find Sarah Robertson, whose effort was blocked by Belgian keeper Aisling D'Hooghe.
Astute defending from Kareena Marshall ensured the second quarter did not start as the first had, two interceptions preventing black shirts being found in space in the circle.
Scotland survived a second Belgian short corner, Stephanie de Groof pulling her strike to the left of Gibson's goal.
Although possession was shared more evenly in the second period, Belgium still managed to fashion chances easier than their Scottish counterparts. Gibson was called into action to block a reverse stick swipe by Manon Simons.
With a minute to play in the first half Marshall embarked on a closely controlled run down the right flank, but was unable to find a supporting attacker.
Belgium again started rapidly, winning a penalty corner after 90 seconds of the third quarter had passed, but Lieselotte van Lindt's eventual shot was blocked by Gibson.
Strong goalkeeping from the Scottish keeper was the only thing preventing the Belgians from adding to their lead, a double save from de Groof and Boon's efforts in the 35th minute a highlight.
When the ball did find its way into the Belgian circle, keeper D'Hooghe was alive to the danger, charging out to smother the onrushing Louise Campbell. At the other end, Gibson again saved from Boon with a strong right hand.
Belgium sought to control the possession in the fourth quarter, limiting the effectiveness of the Scottish attack.
A short corner with seven minutes to play provided a rare chance for Scotland, but D'Hooghe got a strong left hand to the drag flick.
Predictably, Scotland pushed increasingly higher as the match drew to a conclusion, Nikki Kidd with a skilful run was ruled to have just dribbled out of play when at the by-line.
Despite Scotland's best efforts, the Belgians defended solidly enough and held out for the victory.
De Groof felt her side could have been more prolific to have made the final phases easier but added that her side can now play with more freedom against Italy on Sunday.
"Yeah, that [being amazed to have not scored more than one] is the feeling we have for lots of games. Its good that we let no goals in and we all kept fighting and were creating good chances so I hope that against Italy we will put them in the goal.
"It will be a relief for a lot of girls if we can score more goals so I hope against Italy everyone can play with a happy face."
For Scotland's Emily Maguire, thoughts are already turning to Sunday's tie against Poland where they will look to join Belgium and retain their place in the top tier.
"Belgium are a quality team and we knew we would have to give it everything to get something from the game but we recognise we are not happy with our performance. We set ourselves some really high standards and it is difficult to reach those standards in every single game.
"We want to keep pushing ourselves. Through this tournament, I think we have shown we deserve to be here and are a top six European side. We can control what happens to us and we are looking forward to Sunday, knowing we can do the job."