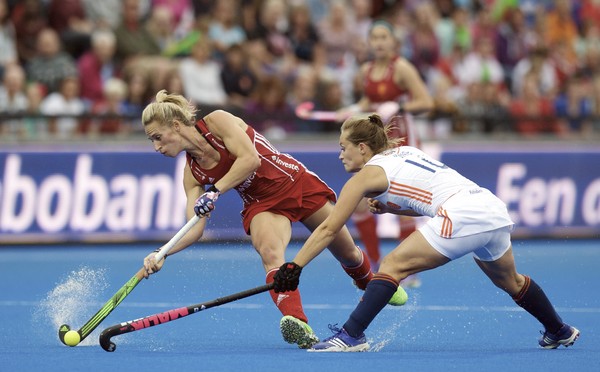 Hinch the heroine as England produce incredible final comeback
WOMEN'S FINAL: Netherlands – England 2-2 (0-0)
England produced an incredible late comeback, surviving a huge and sustained Dutch barrage to land their second EuroHockey Championships with Maddie Hinch producing one of the performances for the ages.
They eventually prevailed in a shoot-out 3-1 coming back from 2-0 down  with eight minutes to go in regular time to win in the most dramatic of fashion.
Asked to put the feeling into words, Hinch said: "That's impossible! Literally, the best, best feeling in the world and God do we deserve it. We've had some lows but this has been one hell of a summer and this has been coming.
I'm just in a state of shock. I don't know what to say. It just shows the level of belief in our team at the moment to come from two goals down, to say 'we're not giving up on this' and that's exactly what we did."
Caia van Maasakker's third quarter penalty corner double looked to have won the tie for the Dutch as they eventually broke through a blood and guts English defence. She found her range from the eighth and ninth Dutch penalty corners, finally finding a route past the superb defences of Hinch who kept out 22 shots on target overall.
But England produced a rousing comeback in front of the capacity crowd at Lee Valley with Sophie Bray and Lily Owsley's corner rebounds in the closing eight minutes, earning their shoot-out chance.
In normal time, the Dutch will wonder how they took so long to break the deadlock. The tone was set early on with a volley of four shots inside the first four minutes before two green cards stalled the Netherlands momentum.
Ginella Zerbo was somehow denied by Hinch's in-step when she raced onto an Ellen Hoog passed that was miscontrolled into the winger's path.
Six penalty corners, primarily from van Maasakker's stick, were also either charged down or tipped away by Hinch's athleticism with good support from number one runner Ashleigh Ball. Hollie Webb, meanwhile, was a bullish presence both in defence and clearing the lines.
For England, Alex Danson was the one lighting the touch paper while Sam Quek won one corner though the set-up was slow and charged down without a shot of note. Nonetheless, they were grateful for the half-time breather after less than 30% possession.
The flow continued into the second half with Naomi van As drawing a block at the near post while Hoog miscued when the goal beckoned, allowing Kate Richardson-Walsh time to clear off the line.
When Hinch wasn't saving, Quek made some huge blocks, the pick from Marloes Keetels. But the corners kept coming and van Maasakker eventually obliged with a deflected corner flick which lobbed over Hinch into the top corner.
Two minutes later, she made it two with a cleaner route to goal to make it 2-0 and that looked to be the tie done and dusted.
After all the dominance, however, their composure was shaken in the final quarter and England stormed back into action. Danson had served notice of their danger when she drew a fine reaction save from Joyce Sombroek.
And, in the closing quarter, England forged their way back into the game from their second corner from Sophie Bray's quick-thinking, pulling the ball out from under Sombroek after MacLeod's deflection got stuck.
That was with eight minutes to go. Hinch then produced the pick of her saves, denying van Maasakker's tenth drag-flick before scrambling across the goal line to deny Lidewij Welten.
The value of the save was exponential when, in the next attack, Wilemijn Bos miscontrolled to concede a corner. Again, it went to the second phase and Lily Owsley was the woman to finish from close range for 2-2, earning them the shoot-out decider for the second successive championships.
England lost the final shoot-out two years ago in Boom against Germany but they had the momentum all the way through this time around. Hinch saved from both Willemijn Bos and Welten while Helen Richardson-Walsh, Alex Danson and Sophie Bray put them in a 3-0 position.
Speaking about the shoot-out, Hinch said she had done her research and it paid dividends: "I'm known to be a bit of a geek on this kind of stuff and it was my turn to step up and do it."
Ellen Hoog got one back but Hinch subsequently saved from Eva de Goede for a famous victory, their second European title and first since 1991.