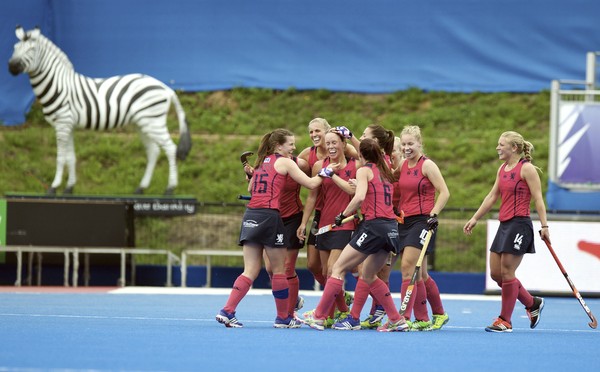 Kidd inspires Scotland to retain top tier place
Pool C: Scotland – Poland 2-0 (1-0)
Scotland warded off any danger of potential relegation to EuroHockey Nations Championship II with a composed 2-0 win over Poland, ending the tournament in sixth place overall.
The Poles had a chance of leap-frogging the Scots in the Pool C rankings if they could summon their first victory at this elevated level of competition.
But Gordon Shepherd's side showed the greater know-how and produced some slick, flowing hockey at times to pick through their opponent's defence and earn their second win of the campaign.
Scotland entered the competition as the only side not to have played an Olympic qualifier prior to the Euros and Kareena Marshall said it took a little while to grow into the competition but they definitely showed they belong at this level.
"We do feel that we don't always get the same competition as everyone else. We have to do most of our preparation at home and make sure we get some good games in before.
"But it was a really great week for us. We achieved our minimum  target to maintain our place in this division and, you know what, in two years time, we want to step up. We definitely want to make the semi-finals; that would be phenomenal. Ireland have done it [in the men's competition] so why not?"
Nikki Kidd opened the scoring in the 15th minute after a flurry of chances, firing home on her reverse-stick from mid-circle after Becky Merchant's pass broke her way.
It came mere seconds after Vikki Bunce had clipped the inside of the post while Nikki Kidd's followed effort was only denied by an incredible stop by the sprawling Marta Kucharska.
The goalkeeper did well to keep out a Kidd drag-flick, too, while Poland's best chances of getting back on terms were limited to crash balls from Marlena Rybacha and Joanna Wieloch.
Two nil arrived six minutes into the second half via a superb interchange down the right channel that set Kidd free and she picked out the waiting Bunce in front of goal to sweep in.
Poland did push on in the final quarter but to no avail and they finish their EuroHockey Championships tournament overall in eighth place.
Speaking about their debut in the tournament, captain Rybacha was concerned about the impact that relegation will have.
"The last two games we played much better, but we still didn't take our opportunities and we made a few small mistakes. At this level if you make small mistakes, you get punished.
"This is bad for Polish hockey, we didn't have many funds anyway and we will have less now. The other problem is that we will now not play such good international fixtures, so our standard will fall."