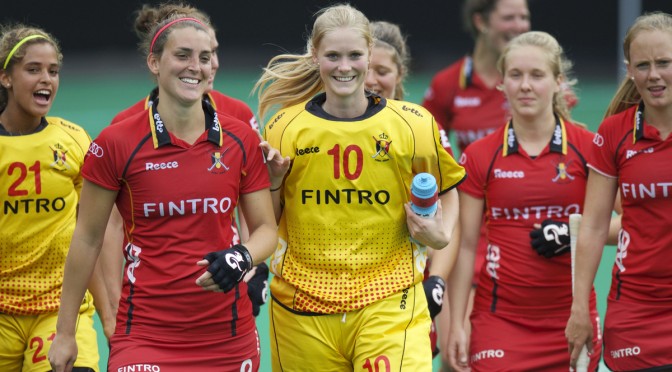 Clear-sighted – Lieselotte calls it a day
As the Unibet EuroHockey Championships draw to a close, for one player it is goodbye to international hockey. Belgium women's captain Lieselotte van Lindt has been a stalwart at the heart of the Belgium defence for eight years but has decided that now is the time to call it a day.
"If we had got to the Olympics in Rio then I would have retired after that," she says smiling ruefully. "But that was not to be, so for the next two years there is very little significant international competition for us; it just seemed a good time to call it a day."
Van Lindt has seen the Belgium team raise its standards over the past four years. "When we went to the London Olympics, that was a catalyst for us," she says. "We began to train harder, play smarter, and really raise our levels."
But now, how does the midfielder feel the Red Panthers are performing? In the past 18 months they finished 12th in the 2014 World Cup, seventh at the Hockey World League Semi-Finals and at this latest event, where they hoped to make the semi-finals, the team finished in fifth place.
Van Lindt reflects on the past few days. "We under-performed here, definitely, and then other results didn't go our way," she says. "We certainly didn't expect Spain to have such an amazing game against Poland." By beating Poland 10-0, Spain booked a place in the EuroHockey Championship semi-final, beating Belgium to the spot on superior goal difference.
"We used to make the excuse that we had a young team, but over half this team played in London 2012, so it is not a particularly young team. And every team has to accommodate new players. We cannot use the excuse of a lack of experience anymore, we just have to work harder, train harder."
"The thing is, we play some really nice hockey. We have good structure and, even if I say it myself, our defence is strong. Our biggest problem is the lack of firepower up front. We just can't score the goals, we create the opportunities but, as you have seen all tournament, we can't finish it off. Until we get that right we will never compete with the top teams."
Will van Lindt miss the international set-up? "Of course, but I will still be playing club hockey, I just won't be training with the national squad two days a week, every week. That is a big commitment and I don't think I can justify that anymore. Many of our players are students so it is not so much pressure on them. I work, so that makes it difficult."
Van Lindt, who is 26-years-old, works with her parents in the family opticians. "My parents have sacrificed a lot for me. Whenever I am training or competing they cover for me in the opticians – it is time for me to pay them back. And I am also looking forwards to taking a holiday – that is something I haven't done for a long, long time."