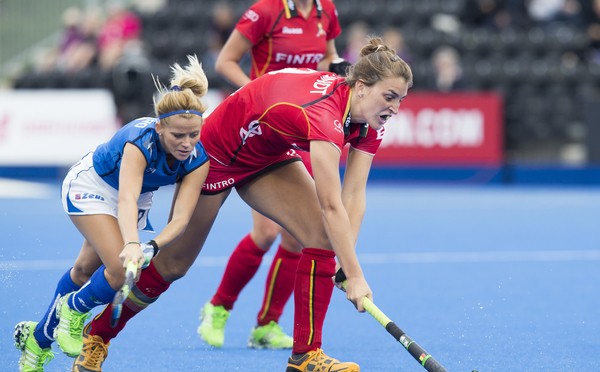 Van Lindt bows out in style while Italy face second tier of hockey
BEL v ITA 4-3 (1-2)
Italy ran themselves ragged as they chased three points and a slim chance of avoiding relegation. As they have done in every match of this championship, they had moments of brilliance and moments when the opposition was able to make them pay. Belgium, whose status at the top table of European competition is safe, began slowly, but steadily grew into the game and were in control by the final quarter.
It was a dream start for Belgium and their long-serving captain Lieselotte van Lindt (4′) when she was on hand to slot home the opener after Anouk Raes smartly slipped the ball left. Van Lindt, who won the Player of the Match award and was playing in her final international match for Belgium, made no mistake as she lifted the ball past Martina Chirico in the Italy goal.
The Red Panthers' joy was short-lived as Italy quickly got back on even terms through Aidana Lovagnini. The forward deflected a penalty corner shot over the Belgium post player's stick.
Italy took the lead through their second penalty corner, captain Chiara Tiddi was given licence to run straight into the Belgium circle unopposed. Head coach Pascal Kina looked on in disbelief as his team seemed to stop their run out, leaving the Italian to take the ball into the circle and fire home past Megane Simons in the Belgium goal.
As the first half counted down, both teams had chances to break the deadlock. Jill Boon came close, but her shot was taken off balance and for a few minutes the striker seemed to have done some serious damage to her knee. At the other end of the pitch, Italy had chances of their own, including one shot that rattled off the cross bar.
Fortunately for Belgium, Boon returned to the field after half-time and was instrumental in bringing Belgium back into the game. The Red Panthers reduced the deficit early in the second half when Boon hit a searching ball into the circle and Manon Simons (31′) touched the ball past Chirico. This was followed up seconds later by a thunderous shot from Judith Vandermeiren (33′), to put the higher ranked team ahead.
Giuliana Ruggieri (43′) brought Italy back on even terms after a jinking run by the inspirational Tiddi had left a trail of flailing Begium sticks in her wake. Tiddi took the ball to the back line then slipped to Ruggieri who gratefully pounced on it.
And so the scene was set for a great final quarter of action. Italy needed to win to put pressure on Scotland in the race to avoid relegation. But it was Belgium who put their foot on the accelerator. Alix Gerniers pounced on a loose ball and ran it to the Italy circle. Her pass found Emma Puvrez (47′) who made no mistake in slotting the ball home, effectively ending Italy's EuroHockey Championship adventure.