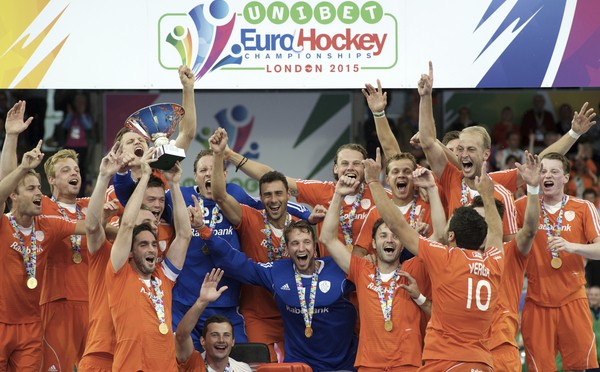 Van der Horst hails "best result ever"; all the men's final reaction
After a number of painful final defeats against Germany, Dutch captain Rob van der Horst described the 6-1 win in the final of the Unibet EuroHockey Championships as "best result ever in my career".
The nature of the victory – building a five-goal lead in the first half – made for a unique experience and van der Horst said that being so far ahead so early allowed him to savour the special moments.
"When the score is like that, you start to enjoy it a little bit more," he said. "You see things on the big screen that make you smile, people cheering, guys on the bench crying. You get that time to really enjoy it and the emotions. Normally, you play until the end and it's like 'oh, we won!'. Now, this was very different!
"Obviously, this is the best result ever for me in my career. It was a little bit more comfortable because you are so dominant. You win some and lose some but this one we really, really won."
Talking about the key components to the game, the sweeper said that while the nature of the match was very different to the 1-0 semi-final win over Ireland, there was not a large difference in tactical set-up between the two games.
"We played with a lot of structure and discipline which is actually the story of the whole tournament where we don't give away many chances and only one goal at the end of the game when it wasn't important. It's really delightful.
"We didn't change that much from the other games. Germany is willing to come out and play a bit more. Other teams are playing more defensively so its harder to create as many chances. I believe that was key today.
"Normally, when you score against Germany you know they are going to come back and, even at 4-0, you know the game isn't over and they can make life difficult. But we kept our focus and when it got to six, only then did you feel like they might give up."
Robbert Kemperman, meanwhile, said the key phase was the opening quarter when the tone was set.
"Incredible final, we said we had to be awake in the first 15 minutes and I think we killed it from the moment we started the game. We were in fighting mode!
"It was so quick; 1-0, 2-0, 3-0 – from there, we can control the game and it was really good. We've lost several finals against the Germans so finally we got there and are really happy."
German talisman Moritz Fuerste also pin-pointed the opening 15 minutes as the key battle which his side did not get a handle on.
"We started the game with the ball quite well and the first quarter could have ended with a 2-2 draw if things were different. But they out-countered us and it felt like it wasn't meant to be. We had a few good opportunities but off the ball we were not good enough today and made too many mistakes.
"Today they are deserved winners. We've no explanations of the moment. Overall, it was a good tournament, we played quite good hockey. We struggled in the semi-finals against a good English side but still won.
"After all, we can be happy. We lost against a strong Dutch side. What can I say; sometimes you win, sometimes you don't."