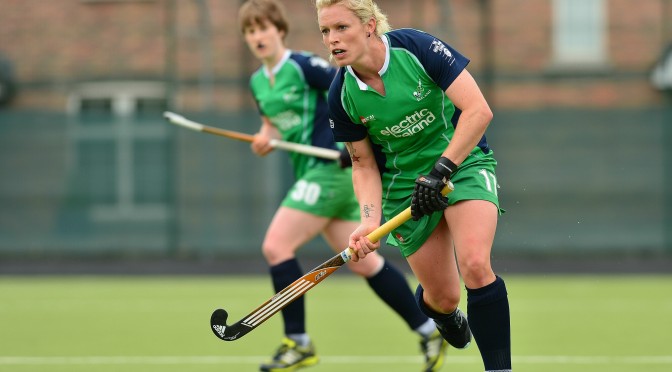 Hall of Fame beckons for two leading lights
If you are looking for inspirational role models, they don't get much more inspirational than this year's European Hockey Federation Hall of Fame inductees, Nikki Symmons and Pol Amat.
In a celebration taking place during this year's Unibet EuroHockey Championship, the Spanish winger and the Irish legend were additions to a small but impressive roll of honour that includes German superstar Natascha Keller, Spain's talisman Santi Freixa and Netherlands legend Teun de Nooijer, who were named on the inaugural honour's list in 2013 in Boom.
A half-time presentation during the men's final saw Freixa and de Nooijer welcome Symmons and Amat into the Hall of Fame.
Amat was one of the leading lights of a golden generation of Spanish players, amassing 304 caps and scoring 150 goals. In his glittering career, he played in an incredible five Olympic Games, winning silver in both Atlanta and Beijing, along with nine European Championships with gold arriving in 2005 in Leipzig.
Paying tribute to Amat, Great Britain and England goalkeeper Simon Mason said: "When Pol played well, Spain played well. He had incredible hand-eye co-ordination and when he carried the ball one-handed outside his left, he was virtually impossible to tackle."
Admirers of Amat are spoilt for choices when it comes to 'best moments' but the final of the 2005 European Nations Cup ranks highly as the Spaniard scored two goals in less than a minute to turn around a 2-1 deficit and inspire his team to gold.
Symmons, meanwhile, is honoured as a record-breaker in Irish hockey, becoming the first player to pass the 200-cap mark and an inspiration for the sport in her country.
Reflecting on an international career that spanned 13 years and 208 caps – including six European championships – the Dubliner said: "Every time I put on the Irish shirt gave me great memories, not always good, but the bad also served as good memories to make me who I am today."
"I guess I gave my life to hockey for the love of the sport. There were many sacrifices I had to make and I think I inspired people by the way I went about giving it all I had on the pitch, especially near the end of my career. I was always striving to be the best I could be and to be a role model."
And the 33-year-old is continuing to help inspire new hockey fans through her work with the FIH as a digital co-ordinator, promoting the sport to a whole new generation.