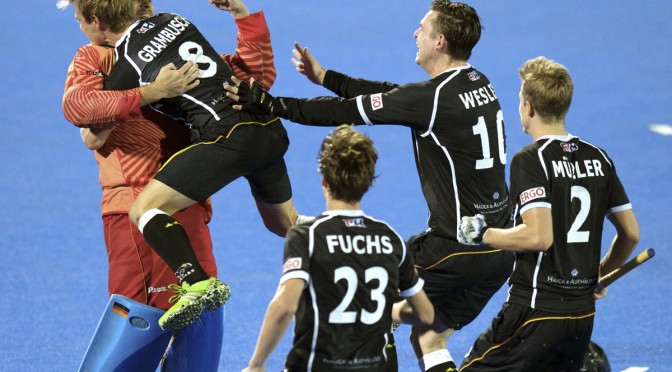 Dutch and Germans set to go toe-to-toe
The two most decorated teams in the history of this competition go head to head in an attempt to capture the title this afternoon. Having both come through the pool stages in dominant fashion, Germany and the Netherlands were pushed all the way in their semi-finals by England and Ireland respectively. With Germany hoping for a third straight title and the Dutch aiming to break their European title drought of eight years there is plenty of drama set to unfold.
Germany booked their passage to the final with a dramatic shootout win over hosts England. After an entertaining 2-2 draw, the Germans were indebted to goalkeeper Nico Jacobi for his brilliance in the shootout to break the home side's hearts. Speaking afterwards, Christopher Ruhr said:
"That was really tough, we went behind, then we came back and took the lead. When it went to shoot-out, we were confident. We have the best goalkeeper in the world when it comes to shoot out. Of course, it is always down to a bit of luck, but we were confident. We are defending champions and we are determined to retain the title. Against the Netherlands, we'll just see what we can do, we are Germany, we always want to win.
If you win lots of titles, of course you get confident. It has an effect upon your opponents too, they know you can win and that can make them play differently. We always try to win, particularly when it comes to the big games."
The Netherlands also came through the pool games unbeaten and then saw off a spirited showing from Ireland who eventually succumbed to Jeroen Hertzberger's strike ensuring the Dutch made the final.
Goalkeeper Jaap Stockmann told us:
"It's always tough and Ireland are a good side who have made a lot of improvements. We didn't underestimate them but we're very happy to get through. It's always good to get momentum. You have to keep your levels high and keep improving. We hope we can do that in the final.
Germany are a good team. We hope we can maintain our performances and get the job done. They are a very strong group but we have our threats, too. If our players can play well we have a great chance. "
Both teams in fine form. Both teams desperate to capture the title. Both teams packed with star names. Not long to find out who will come out on top.