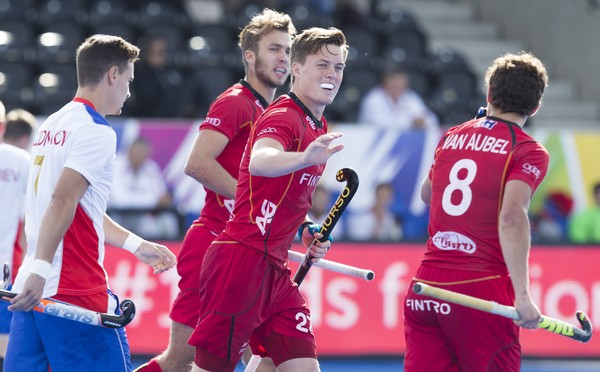 Boom Boom Boon's magnificent seven
Belgium – Russia 11-4  (6-3)
Belgium's Tom Boon raced to the top of the UniBet EuroHockey Championship goal-scoring charts by scoring seven goals in an 11-4 win over Russia, writes Nathan Orr.
The Red Lions, who are ranked fifth in the world, have had a disappointing campaign at the Championships, as they failed to reach the semi-finals after finishing third in Pool B but their comfortable win over Russia guarantees a fifth place finish, meanwhile Russia are consigned to relegation and will be playing in EuroHockey Championship II.
Speaking on the win and scoring seven goals, Boon said:
"I'm happy with today's win. We had to come back from a disappointing week.
"It's nice to be top scorer but at the end of the day, it's the team performance that counts. We are not happy with how we have performed at this tournament, but obviously for me,  it's always nice to score."
Belgium took the early possession, and looked threatening from the offset. Ivan Ozherelev denied Jerome Truyens with a solid save, but shortly after Tom Boon (2') fired a low, hard drag-flick into the right-hand side of the goal to put the Red Lions in front.
Despite falling behind, Russia showed tenacity to create opportunities in the Belgium circle. Nikolay Komarov tested 'keeper Vincent Vanasch before Denis Shchipachev shot narrowly wide from a clever penalty corner routine.
In the 11th minute, Boon eased Belgium nerves by (11') grabbing his second of the game. The talented forward left Ozherelev with no hope as he rifled the ball into the bottom corner.
Russia bounced back impressively by scoring two goals in the last minute of the first quarter. Igor Siniagin (15') was left unmarked in the circle, and capitalised by flicking a shot into the top-left hand corner. Then seconds later, Komarov (15') levelled the score by slotting home after a neat team move.
Boon put the Red Lions back in front at the start of the second quarter by scoring two fine goals. Boon (17', 18') marked his hat-trick by sliding an effort past Ozherelev, and shortly after added another via a drag-flick from a penalty corner.
Two minutes later, Russia exposed Belgium's defensive frailties while displaying their own fighting spirit, as Aleksei Mayorov's (20') reverse stick effort found the left hand side of Vincent Vanach's goal.
Jereon Delmee's side earned some breathing space towards the end of the first half, as Alexander Hendrickx (25') and Emmanuel Stockbroekx (28') scored reverse-stick goals for a 6-3 lead.
Belgium began the second half in much the same vein, as they showed their attacking prowess. Boon (34') demonstrated his reputation as one of the leading penalty corner takers in world hockey, as he scored his third goal from a set-play.
Gauthier Boccard (39') capitalised on Russia's inability to clear their lines from a penalty corner in the 39th minute, as he fumbled the ball past substitute 'keeper Marat Gafarov.
Three minutes into the fourth quarter, Boon (48') sealed his double-hat-trick by firing a drag-flick into the roof of the net.
Captain Nikolay Yankun (51') pegged one back for Russia as his drag-flick effort beat Vincent in the Belgium goal. As the final quarter came to a close, Truyens (55') fumbled a shot past Gafarov, before Boon (58') grabbed his seventh and final goal of the game.